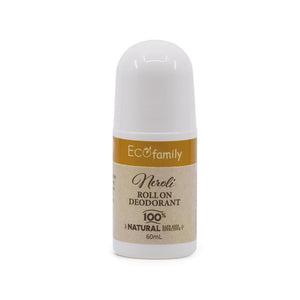 Neroli Roll-on Deodorant 
EcoFamily's New Deluxe Range of Roll-On Deodorants are made with Aloe Vera juice that is obtained from plants (Aloe Barbadensis) that are certified chemically free grown in Australia. The exotic scents inspire the senses with the divine notes of Clary Sage, Neroli and Sandalwood. The effective non-toxic and eco-friendly new formulation works with your body by inhibiting odour without plugging the pores.
Made with 100% natural ingredients, free of antiperspirants, synthetic preservatives, fragrances,and colourants. Vegan & Not tested on Animals.
Ingredients: Distilled water, Aloe Barbadensis (Aloe Vera) juice, sodium bicarbonate, guar gum, Neroli essential oil, grapefruit seed extract.
60mL