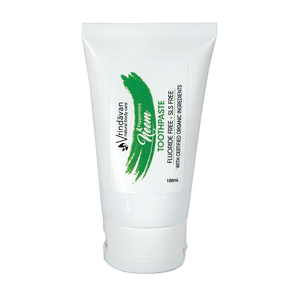 Vrindavan natural herbal toothpaste is SLS Free, Fluoride Free and Cruelty Free. With certified organic ingredients. Vegan friendly.
100mL
Ingredients: organic sodium bicarbonate, aqua (distilled water), cocos nucifera (coconut) oil*, xanthan gum, xylitol, mentha piperita (peppermint) essential oil*, azadirachta indica (neem) leaf extract, citrius grandis (grapefruit) seed extract.
(* denotes certied organic).