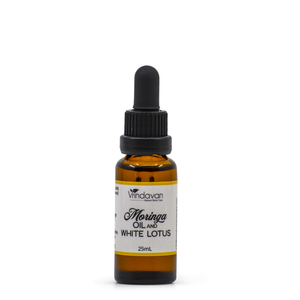 Moringa Oil & White Lotus
25mL
moringa oleifera
Vrindavan Moringa Oil is virgin cold pressed from the seed of the organically grown moringa tree. Light gold/ caramel  in colour with a nice characteristic odour. Moringa oil posesses exceptional oxidative stability. It is high in oleic acid and similar in composition to olive oil.
White lotus oil (Nymphea Albais) obtained from the steam distillation of fresh flowers of the common Indian Lotus plant. This absolute oil helps one dispel negative energy and flush away anger hence it is a great oil to use when one needs to relax or meditate.
Reduces fine lines, stretch marks and blemishes. Improves overall skin appearance. Soothes inflammation and dry skin conditions such as dermatitis, euema and psoriasis.