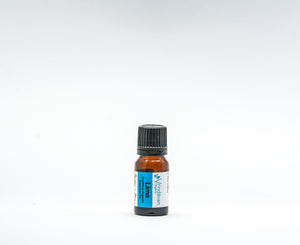 Certified Organic Lime (Citrus aurantifolia) Essential Oil
10mL
Lime Oil: is extracted from the rind of fresh lime fruit, offers a range of benefits. Its bright, uplifting citrus scent can boost mood, reduce stress, and improve mental clarity. Lime oil supports the immune system with its antioxidant properties. It has antiseptic and disinfectant qualities, making it useful for cleaning and purifying surfaces. Lime oil aids digestion by stimulating digestive juices and relieving indigestion symptoms. It is beneficial for oily and acne-prone skin, as it can reduce excess oil and improve complexion. In aromatherapy, lime oil is known for its uplifting effects, helping with anxiety, depression, and fatigue. Use lime oil in moderation, perform a patch test, and consult a healthcare professional if pregnant or with medical conditions.
Vaporiser: Add 8-10 drops of essential oil to the ceramic dish of your vaporiser.
Diffuser: Add 8-10 drops of essential oil to the full water chamber of your diffuser. 

Massage: essential oils should always be mixed with a carrier oil when applied directly to the skin. Add 5 drops of essential oil into 10ml of carrier oil and massage into the skin. Always patch test first.
Bath: mix 12-20 drops essential oil with a carrier oil prior to putting the oils in a full drawn bath, this protects your skin and helps the oils to disperse through the bath safely.
Steam inhalation: add 2-3 drops of essential oil to a bowl of steaming water & cover the head with a towel. Close the eyes & inhale deeply for 5 minutes. Repeat as needed.
Safety Cautions:  Keep out of reach of children. It is recommended to seek a healthcare practitioners advice before using essential oils during pregnancy.