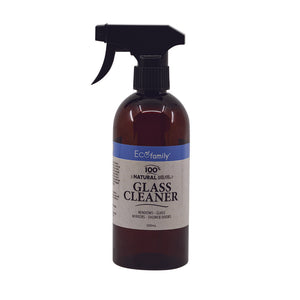 Glass Cleaner
EcoFamily Window & Glass Cleaner is formulated without toxins and sensitisers, contains no nasties or concerning chemicals like SLS, dyes, parabens, nor phosphates. When using your glass cleaner on windows, mirrors, shower doors, and other glass surfaces, always work from top to bottom. This helps to prevent drips and streaks from the top down. Fingerprints and dust will disappear from your windows and mirrors without a streak.
DIRECTIONS: Spray onto surface. Clean with a sponge or brush, then use a squeegee or wipe with a wet cloth. Wipe dry with a microfibre cloth for a streak free finish.
INGREDIENTS: aqua (distilled water), vinegar, castile soap, lemon essential oil. Shake well before each use.
Store below 30°C. Avoid storage in direct sunlight or heat.
Keep out of reach of children.
Plant based, vegan and not tested on animals.
500mL
Made in Australia.