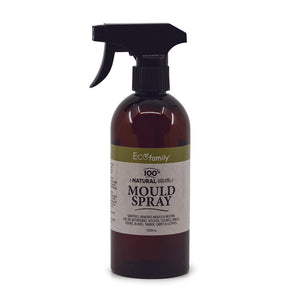 Mould Spray with Clove Oil
Removes mould - Attacks Spores -Prevents Growth
EcoFamily's New Cleaning Products are formulated without toxins and sensitisers, contain no nasties or concerning chemicals like SLS, dyes, parabens, nor phosphates. EcoFamily's cleaning products are environmentally responsible, naturally derived cleaning products to effectively clean your home without harming your family.
All products are plant based, vegan and not tested on animals.
Sanitises: Bathroom, kitchen, ceilings, walls, doors, blinds, timber, carpet, clothes. Directions: Lightly spray on affected area. Wipe of with cloth. Repeat if necessary. (For persistent mould leave for 24 hours.) For carpets leave for 24 hours, vacuum. Caution: Test on a hidden area of surface or material first.
Safety: Wear gloves when handling. Avoid eye & skin contact.
500mL
Made in Australia.