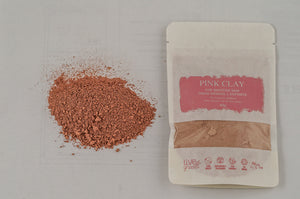 Pink Clay - For sensitive skin, tissue firming, softening and maintenance.
30grams
No colours added The colours are true to the area and depth of extraction, hence the colour differences in each batch.
Face Mask - Skin Cleanser & Softener
15 grams clay
15-30mL pure water
Glass/ceramic dish
Wooden spatula
Place water in dish, add clay and allow to dissolve. Mix to a smooth paste and apply evenly over face avoiding sensitive eye area. Leave for 10-15 minutes. Do not allow to dry. If drying occurs before time is up lightly spray with Vrindavan certified organic Rose Water or pure water to keep moist. Lightly remove with water, pat dry, moisturise as usual.