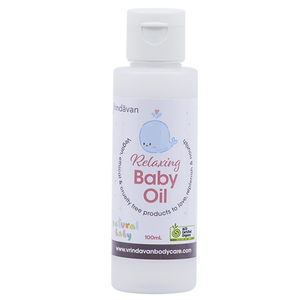 Certified Organic Relaxing Baby Oil is cold pressed and petrochemical free. Safe to use on the most delicate skin.
Directions: Use as a massage oil, hair oil, or bath oil. 
Ingredients: Certified organic camellia oleifera (camellia) oil, certified organic lavender essential oil. 
100mL
Camellia oil is used to prevent dry, rough, scaly, itchy skin, nappy rash and minor skin irritations. Camellia oil is more effective than other natural oils because its composition makes it a powerful penetrating oil which leaves no greasy residue. Camellia oil is one of the botanical oils with the highest content of naturally occurring antioxidants and is rich in polyphenols and mono-saturated essential fatty acids – omega 3,6,9 and vitamin A, B and E.