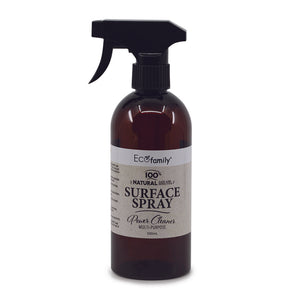 Surface Spray with Eucalyptus Oil
EcoFamily's New Cleaning Products are formulated without toxins and sensitisers, contain no nasties or concerning chemicals like SLS, dyes, parabens, nor phosphates. EcoFamily's cleaning products are environmentally responsible, naturally derived cleaning products to effectively clean your home without harming your family.
All products are plant based, vegan and not tested on animals.
 • KITCHEN: Benchtop, stove and cooktop, range hood, greasy pots, pans and baking dishes, oven.
• BATHROOM: toilet, tiles, shower screen and base, bath and basin.
• LIVING ROOM: painted surfaces, vinyl and tile floors, carpet spots and stains, upholstery.
• LAUNDRY: collars and cuffs, grass stains on sports clothes, socks.
Directions: Spray onto surface and wipe with a wet cloth. For stubborn stains, leave for 15 min, scrub and rinse. Wipe dry with a microfibre cloth for a streak free finish. Caution: Test on a hidden area of surface or material first.
500mL
Made in Australia.