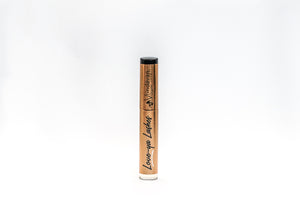 Love-ya Lashes - Gold
Ingredients: Certified organic cold pressed castor oil  
hexane free 
10mL
Application: Apply daily to eyelashes to make them grow longer and stronger.
Castor oil benefits for your eyelashes:  Castor oil improves blood circulation and helps strengthen the hair shaft by locking in moisture, and the oil's essential fatty acids nourish the roots of the hair. With so many great benefits, it is no surprise that this oil is such a popular eyebrow treatment.
Provides essential fatty acids and vitamin
Provides the minerals essential to grow strong hair
Supplying omega 6 essential fatty acids for healthy hair
Delivering vitamin E where it is needed most
Strengthens hair
Has anti-bacterial, anti-fungal and anti-viral properties
To be able to give your eyelashes a fast and easy daily treat, Vrindavan has brought out Love-ya Lashes - Gold which has certified organic castor oil, and Love-ya Lashes - Black which contains the popular Jamaican Black Castor Oil which is darker in colour and more alkaline. Both come in a 10mL mascara container that fits conveniently in your handbag.